Best Customer Service at Frank Leta Acura
What We're Thankful For at Frank Leta Acura
Well, if it isn't obvious by now, allow us to scream it from the rooftops: We're thankful for YOU! Our customers are the reason our business has continued to grow and thrive over the decades. We also know that no matter how amazing our product is, we wouldn't be as successful as we are without continually providing the best in customer service at Frank Leta Acura each and every day.
Here are a few testimonials from clients of ours…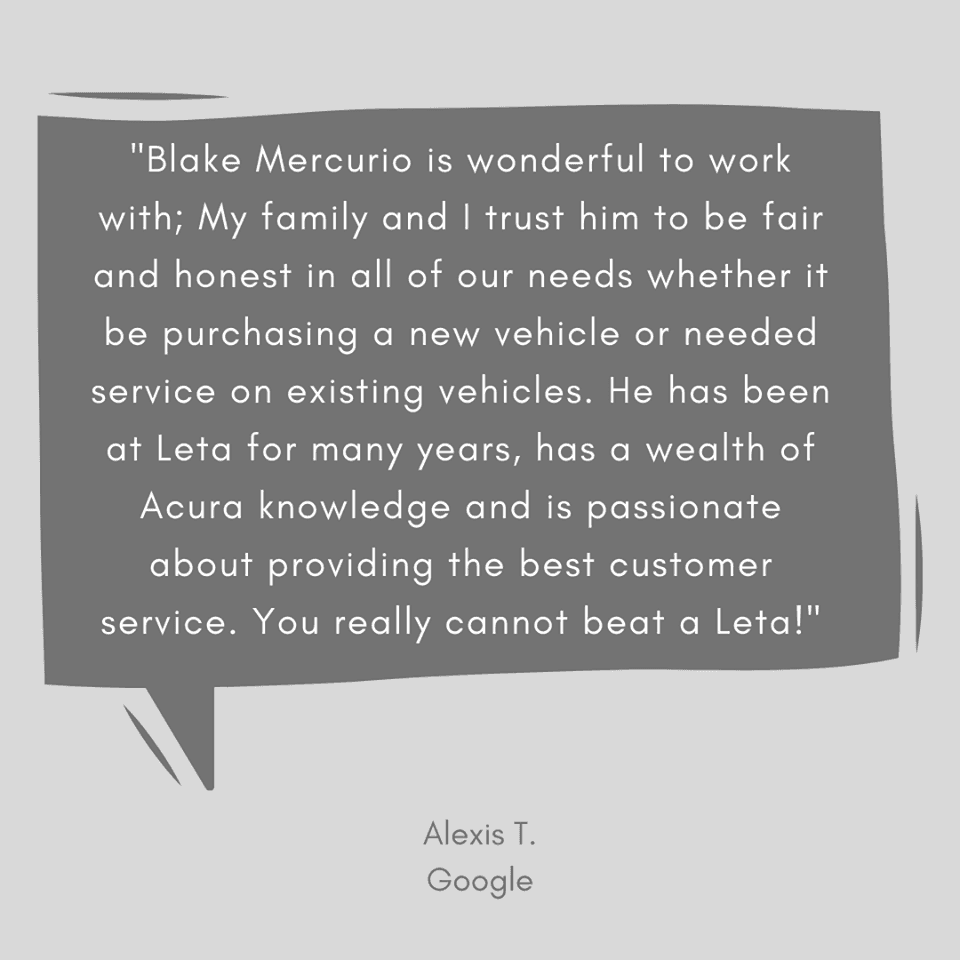 We're proud to boast that we have staff that have been with us for years–even decades! Our team values our customers and making sure they receive the best service possible, which is why the people we employ enjoy doing what they do. We treat our customers like we treat our own family, and when you do business with us, you become an extension of that family.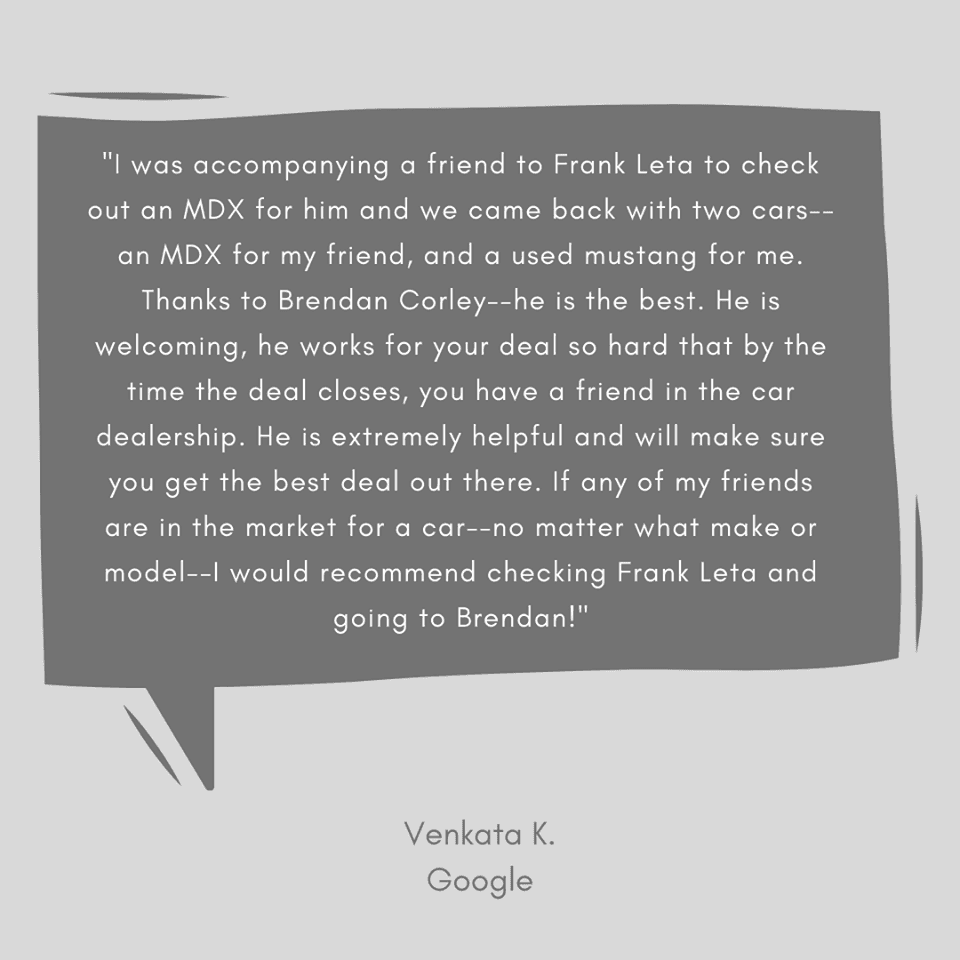 We understand that everyone is working with a budget. Our goal is to not only learn what you truly desire in a vehicle, but also what you're comfortable spending. We know that purchasing a vehicle is a big investment and we want each of our customers to drive away confident that they love their vehicle and feel safe (both physically and financially). No matter your budget, we can work with it.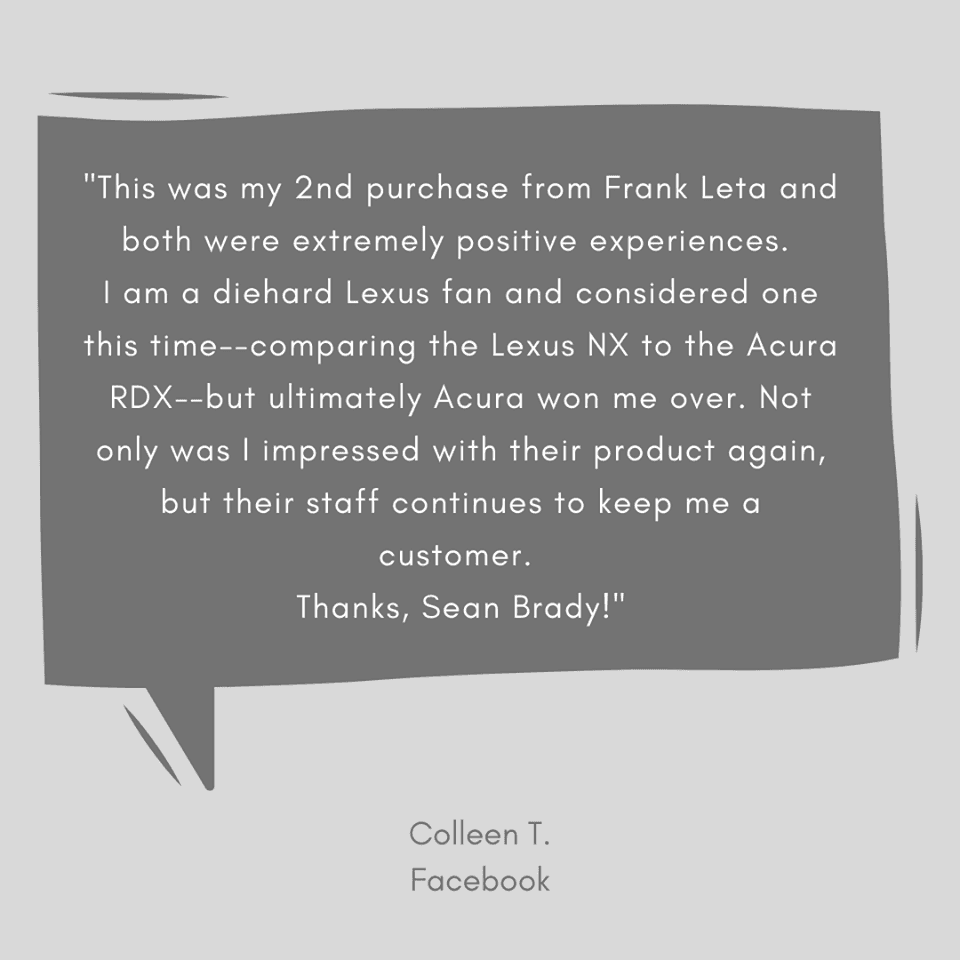 Because of our dedication to providing the best in customer service, our customers continue to come back to us year after year, purchase after purchase. Our relationships with our clients don't end after the sale of the vehicle–our relationships begin at the sale. Our product specialists follow up in the weeks and months following your purchase to make sure you're loving your new vehicle and to answer any follow up questions you may have not that you've driven your new car for a while. We're always available for our clients and enjoy nurturing those relationships through the years.
So, what we're thankful for this holiday season is you. Lastly, for those who haven't worked with us, we invite you to come by and see for yourself what we mean when we say "you can't beat a Leta."