Frank Leta is The Best Place To Buy A New Acura In St. Louis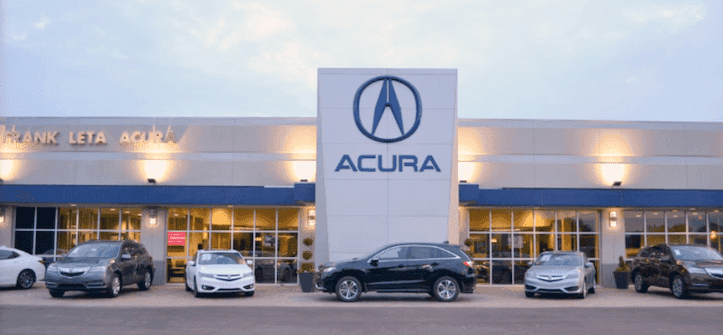 If you've been searching for the best place to buy a new Acura in St. Louis, then you've come to the right dealership! At Frank Leta Acura, you can always count on receiving first-class customer service from start to finish. A proud recipient of the Silver Environmental Leadership Award, our dealership has also earned Precision Team Dealer status and is the premier destination for quality Acura vehicles, financing, and service. Discover the advantages of purchasing your next ride from our St. Louis Acura dealer and all the reasons you can't beat a Leta!
A Stand Out Acura Dealer In St. Louis
Buying a vehicle is a big decision and we believe purchasing something so important should come with some perks. One of the benefits we offer at our St. Louis dealership is the ability to buy your vehicle on your own terms, whether that means browsing new Acura modes for sale in person at our showroom or navigating our expansive inventory online. No matter your decision, our attentive noncommissioned sales team ensures you always get the best price and vehicle for your specific needs through our price match guarantee and offers further peace of mind with our 48-hour exchange policy.
We at Frank Leta Acura also strive to provide safe and affordable transportation to those in need through the Leta Charitable Foundation. We're driven to positively impact the lives of both our customers and the community, and work hard to deliver on this promise with over $150,000 in donations throughout the years.
Join the Leta Loyalty Program
Designed to reward repeat customers, the Leta Loyalty Program is our way of saying thanks for continuing to choose Frank Leta Acura for all your vehicle needs! Drivers earn one point for every dollar spent servicing their vehicle at our St. Louis service center, which they can put towards their next vehicle purchase or future service, and can earn additional points through online reviews and referrals. Best of all, it's completely free to join!
Frank Leta Referral Program
We can all agree that the best form of advertising is through our satisfied customers and have developed the Frank Leta Referral Program as a way to thank you for sharing your positive experiences with us. Our Acura dealer referral program entitles our referrers to two tiers of reward bonuses based on how many auto shoppers they successfully refer and rewards referrers with their choice of a check or LETA Loyalty Points.
Frank Leta Acura Customer Testimonials
As a family-run business, it's in our nature to treat each and every one of our customers as an extension of our family as well. Take a look below to see what some of our customers have had to say about their experience here at Frank Leta Acura!
"Great experience here! Josh Chartrand was an excellent salesperson! He was honest, trustworthy and knowledgeable about my vehicle and the benefits of purchasing from Frank Leta. He even followed up to make sure we were completely happy and didn't have any questions. I would highly recommend Josh, and the entire Frank Leta team, to any of my friends and family!" – Shannon W.
"I had the best experience at Frank Leta Acura this past weekend while I was in town visiting family. I experienced some car trouble on my way into St. Louis. My husband frantically called the service department early Saturday morning and spoke with Brad Lehmann who took incredible care of me. He not only worked me in on a busy day, but he was also so accommodating and kind. I can not recommend Frank Leta enough!" – Liz E.
Purchase Your Next Vehicle At Our Award-Winning St. Louis Acura Dealer
No matter your automotive needs, you can trust the experts at Frank Leta Acura to exceed them. We invite you to visit our Acura dealership in St. Louis today to learn more about purchasing advantages and to discover exactly what sets us apart from the competition.