Meet Our Employee of the Month: Aaron Mead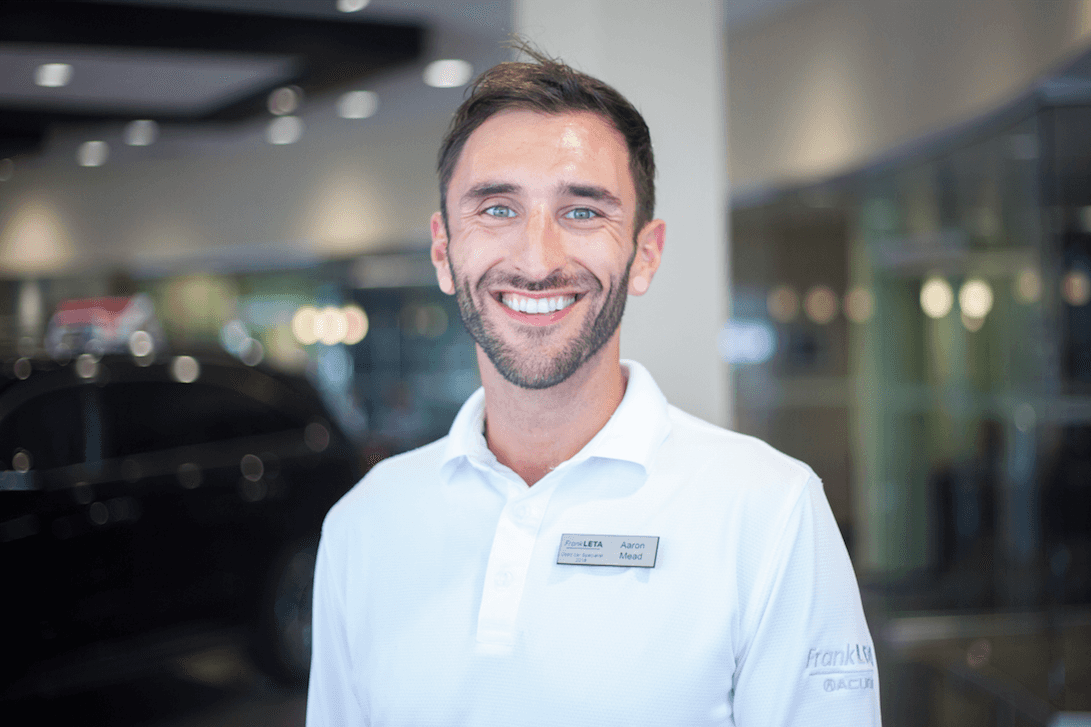 One of our top priorities at Frank Leta Acura is finding individuals who are friendly, approachable, down-to-earth people who we feel can best represent our brand while making our clients feel comfortable and at ease during their purchasing experience. This is no easy task, but having a team that our customers enjoy being around is vital to our success, and Aaron is a shining example of that.
Not only does Aaron's kind demeanor lead to customers repeatedly singing his praises, but it's also one of the many reasons he's our August employee of the month! So, to get to know a little more about Aaron, check out our Q&A below…
Q. How long have you worked in the automotive industry? 
A. "This is my 11th month in the automotive industry and with Frank Leta Acura."
Q. What made you choose to work for Frank Leta?
A. "At the time I was hired, it was very challenging to get a job in sales at Frank Leta Acura. I'm a firm believer in the idea that 'nothing good comes easy' and as soon as I found out there were five interviews (and a book report) that I would have to pass before I could work here, I knew it would be a great fit. 'Why in the world would they make me jump through all of these hoops if there wasn't something exceptional on the other side?' was my thought process, and today I'm really happy to say they were right."
Q. Name one thing you can't get through your workday without. 
A. "Music! I thrive on it."
Q. What are the three most important things in life to you?
A. "(In no particular order)…(1) Sobriety. (2) Progress–in the sense that I tend to get bored quickly with just about anything that isn't changing or evolving in some way. I can't stand complacency. (3) Love/Passion. I need it from my family, my girlfriend, my friends, my co-workers–everyone. It's easy to love something (or love the idea of something), but being passionate about it is what makes whatever you're doing come to life. Gotta have it."
Q. You're on your lunch break and can eat at any restaurant in St. Louis–where would you go? 
A. "Mission Taco Joint. Atmosphere is always great, food is amazing, it never lets me down!"
Q. What's your favorite thing to hear from a customer? 
A. "When they say, 'We're definitely coming back to you for our next vehicle.' We work very hard to ensure a great purchasing experience and provide quality vehicles. To be completely honest, it seems like this isn't the easiest thing to do in the car industry. Most people dread going to dealerships and shutter at the idea of car shopping. When I can show somebody that there really is a difference in what we do and they acknowledge it, it's a reward that reminds me that it's all worth it, even during the hardest times."
Q. You have a free Saturday–what do you spend it doing? 
A. "Chilling at the pool while listening to loud music with my friends. I'm not quite sure what it is that makes some pools so magical in the summertime, but if that's not my happy place, I don't know what is."
Q. Finish this sentence: "If I wasn't working in the automotive industry, I would be doing ______________". 
A. "I would likely still be in music if I wasn't doing this. Audio engineering was and is my fallback, so I imagine it would be something in the field that I came from."
Q. What is one thing people would be surprised to learn about you?
A. "I won my county spelling bee in 4th grade."
Congratulations on being named employee of the month, Aaron! Want to get to know us more? Follow us on Facebook, Instagram, and Twitter!