Meet Our Employee of the Month: Lillian Moore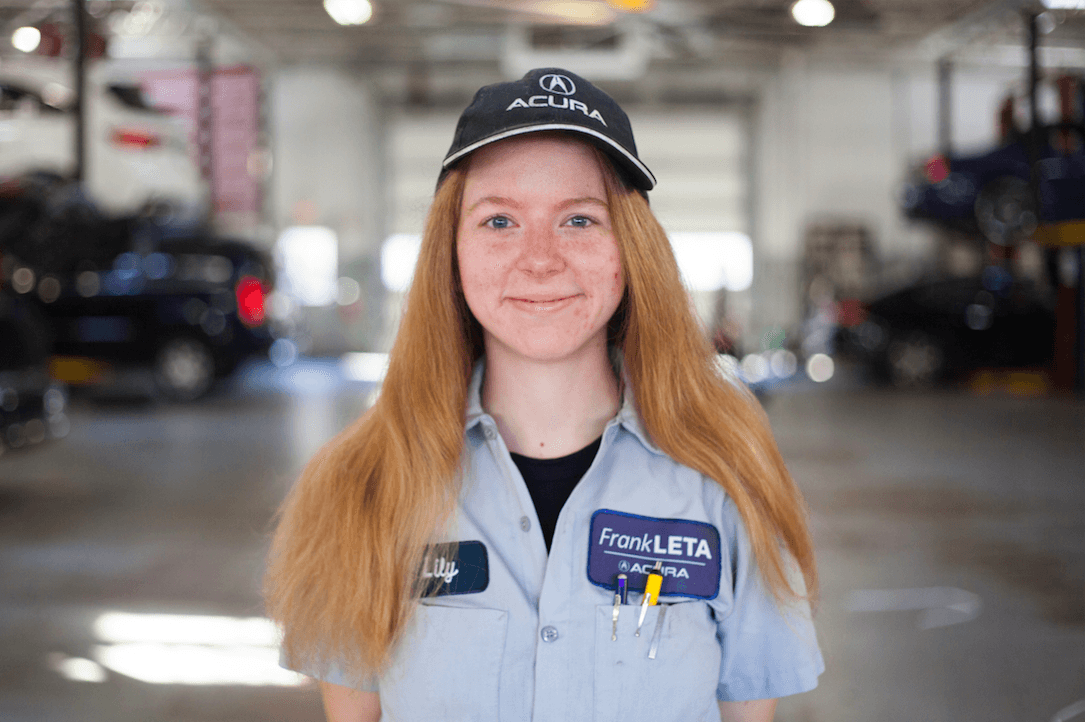 She may be new to our service department, but she's been a customer of Frank Leta for years! While coming on board just three months ago, Lillian has made quite the impact. She shows up to work everyday with a cheerful attitude and friendly demeanor that everyone enjoys, which is precisely why Lillian is our September employee of the month!
I did a little Q&A with Lillian to get to know her a bit better and introduce her to our customers…
Q. How long have you worked in the automotive industry? 
A. "I've only been working in the industry for about three months, with two years of schooling before that."
Q. What made you choose to work for Frank Leta?
A. "My first car was a 2000 TL and I loved that car. I'd regularly bring it to Frank Leta for car washes and everyone was always so lovely. The welcoming atmosphere when I approached them about shadowing pre-graduation sealed the deal for me."
Q. Name one thing you can't get through your workday without. 
A. "Some form of caffeine!"
Q. What are the three most important things in life to you?
A. "My relationships with friends, family and my significant other, doing the absolute best I can at everything I do, and enjoying the little things."
Q. You're on your lunch break and can eat at any restaurant in St. Louis–where would you go? 
A. "P'Sghetti's."
Q. What's your favorite thing to hear from a customer? 
A. "That they would trust me with their car again."
Q. You have a free Saturday–what do you spend it doing? 
A. "Going to the Zoo, Grants Farm, Six Flags, or even cleaning my apartment. I haven't had a Saturday off since I was 16, so I'd do my best to take advantage of it!"
Q. Finish this sentence: "If I wasn't working in the automotive industry, I would be doing ______________". 
A. "Anything with animals! I was a dog walker/house sitter for a while and I love taking care of animals."
Q. What is one thing people would be surprised to learn about you? 
A. "I'm adopted! I look a lot like my adoptive mother, so when it comes up in conversation everyone is surprised."
Congratulations on being named employee of the month, Lillian! Want to get to know us more? Follow us on Facebook, Instagram, and Twitter!