Acura Certified Pre-Owned Cars in St. Louis, MO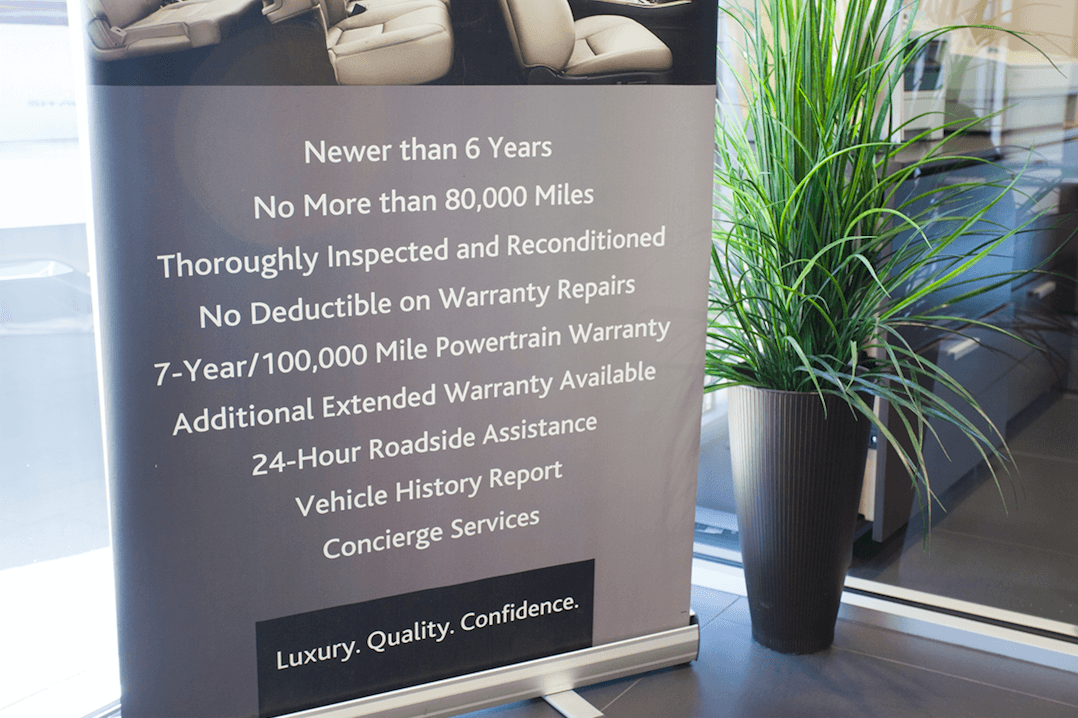 Acura Certified Pre-Owned Cars at Frank Leta Acura in St. Louis
There's a lot of decision making that goes into purchasing a new car, and the first decision most people make is: new or pre-owned? There are of course benefits to both, but sometimes pre-owned vehicles get a bad reputation for no good reason. This is why we developed a list of criteria that we run all of our pre-owned cars against, and if they pass, they get our certified pre-owned stamp of approval. Now, what does it mean to be a certified pre-owned Frank Leta Acura vehicle? Here's the rundown:
Must be newer than 6 years
No more than 80,000 miles
Thoroughly inspected and reconditioned
No deductible on warranty repairs
7-year/100,000 mile powertrain warranty
Additional extended warranty available
24-hour roadside assistance
Vehicle history report
Concierge service
Why Buy Acura Certified Pre-Owned
We have pretty high standards here at Frank Leta Acura in St. Louis, MO, so when we're looking at vehicles to decide whether they qualify for our certified pre-owned stamp of approval, they must be younger than 6 years old.
In the same way, we want these vehicles to not only be in great condition, but last you a long time after purchase, which is why each vehicle can have no more than 80K miles in order for it to be considered a certified pre-owned Frank Leta Acura vehicle.
Our service technicians and master technicians take extreme pride in what they do (if you're not aware, we have several master technicians here at Frank Leta Acura), and they treat our certified pre-owned cars with the same care and respect as they do our 2019 Acura models. It is because of this detail and attention that our technicians provide that each certified pre-owned vehicle is thoroughly inspected and reconditioned before ever being eligible for purchase.
In fact, we're so proud of the job our service technicians do on these vehicles, that we offer no deductible on warranty repairs, should you ever need any. We believe confidence in our work speaks volumes, and we want you to have equal confidence in the vehicle you purchase from the day you purchase it for years to come.
To top it off, we even add a 7-year/100K mile powertrain warranty to prove our confidence by putting our money where our mouth is. That's right–we want you to have complete and total trust that purchasing a certified pre-owned vehicle from Frank Leta Acura is not only a safe decision, but a great one. There's even an additional extended warranty available!
Speaking of trust, what better feeling is there than knowing that if–God forbid–something happens (like you get rear-ended on the road) that we are just a phone call away to being at your side to assist. That is our 24-hour roadside assistance and it's one of the greatest things on planet earth.
To add a cherry on top of this already delicious cake, purchasing a certified pre-owned vehicle at Frank Leta Acura in St. Louis also means there were no major accidents in the vehicle and no major physical damage to the car. Also, all four tires of the vehicle must match, it has to pass a rigorous 182-point inspection by our technicians, and contain no after-market parts.
How to Purchase an Acura Certified Pre-Owned Vehicle
If this doesn't convince you to purchase a certified pre-owned vehicle from us, well, I give up. Seriously, though, if pre-owned vehicles just aren't your cup of tea and you desire to drive something brand new, we have plenty of options for you as well by shopping our new inventory here.
We hope this cleared up any confusion over what it means to buy a certified pre-owned vehicle, but if you do happen to have a follow up question, feel free to give us a call or contact us here. Or just swing on by–we love visitors.