Where Can I Get A New Car Battery in St. Louis?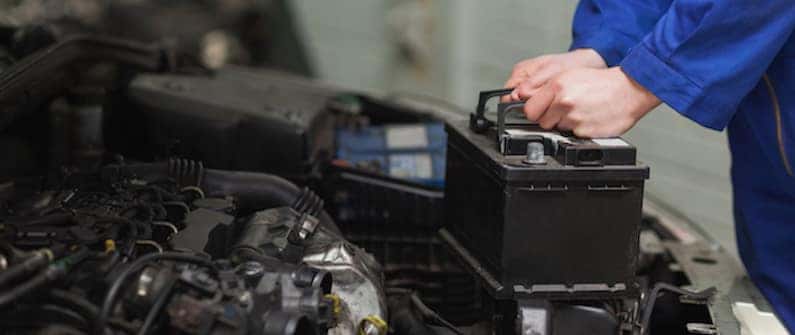 A dead car battery can put a damper on your day and if you're wondering where to go to get a new car battery in St. Louis, Frank Leta Acura has you covered! Our Acura service center in St. Louis can handle everything from diagnostics to repairs and replacements and can even assist you in picking out and installing a new car battery. Be sure to contact us to schedule a service appointment today!
Schedule Acura Service in St. Louis
When Should Drivers In St. Louis Get A New Acura Car Battery?
The average lifespan of a car battery is around three years, and while your Acura luxury vehicle is engineered with high-quality parts, many factors like old age, extreme temperatures, and corrosion can negatively impact your car battery's life. Ensure you're never stuck trying to turn over your vehicle by paying attention to the following symptoms that may indicate your battery needs attention:
Slow Engine Crank: Does your engine seem sluggish when attempting to start your Acura vehicle? If so, this could be a sign that your battery is failing, so be sure to schedule Acura service as soon as possible!
Flicking or Dim Lights: Batteries can often be drained by leaving a light on overnight. Stay vigilant for flicking interior lights, dim headlights, or even a check engine light on your vehicle's dashboard so you can avoid the dreaded feeling of being left stranded somewhere.
Pungent Odors: It's never a good sign to smell strong, foul odors coming from the area around your battery. If you notice a rotten egg smell it could be a battery leak, which can cause corrosion. Get your battery inspected immediately!
Why Should St. Louis Drivers Service At Frank Leta Acura?
No matter your automotive needs, you can count on the team at Frank Leta Acura to get the job done right the first time! In addition to our competitively priced maintenance services, our St. Louis Acura dealer also boasts a comfortable customer lounge complete with complimentary amenities like WiFi, gourmet coffee and refreshments, cable television, and more to ensure your wait is a pleasant one.
Hours & Directions To Frank Leta Acura in St. Louis
Happy St. Louis Acura Customer Testimonials
"Over and over, I have been extremely impressed by the service at this establishment. I have had the good fortune to work with Cougar (advisor) many times in the past (A+). He is always professional and attentive to my needs. I strongly recommend Leta for all your Acura needs." –KS63026 (DealerRater.com)
Read Our St. Louis Acura Customer Reviews
St. Louis Acura Owner Resources
Battery issues can certainly be frustrating but the Frank Leta Acura team is always here to help. Feel free to contact us to schedule a service appointment if you're experiencing battery troubles or are simply worried about the condition of your Acura vehicle's battery. We'd be more than happy to help!